For further information on these and other physics resources or to schedule a consultation, please contact Sally Wyman, Subject Specialist for Physics (sally.wyman@bc.edu;617-552-4452).
Use the RSS feed link below to get information on new physics titles arriving at Boston College. Learn more about setting up your own RSS feeds at BC.
Loading...
Physics Today -- Latest News from the RSS Feed
Loading...
New Online Resource at Boston College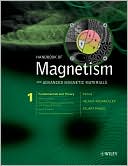 We now have online access to the Handbook of Magnetism and Advanced Magnetic Materials (Wiley, 2007). Click here to see the Holmes record and link for access.

Vol. 1. Fundamentals and theory
Vol. 2. Micromagnetism
Vol. 3. Novel techniques for characterizing and preparing samples
Vol. 4. Novel materials
Vol. 5. Spintronics and magnetoelectronics.
Sally Wyman
Contact Info
O'Neill Library, Room 408
Boston College Libraries
Chestnut Hill, MA 02467
617-552-4452
Send Email