Quick Guide to E-Books
Looking for scholarly e-books? Use the Catalog.
After running your topic search, limit your results to E-books by clicking on "Material Type" on the left side and choosing "ebooks". You may need to click "More Options" to see this material type listed.
Looking for e-books to download and read for pleasure?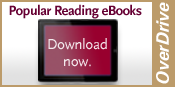 E-Book Values Statement
The attached document reflects current buying practice, while also serving as a list of desiderata for those features not yet widely-available in the e-book marketplace.